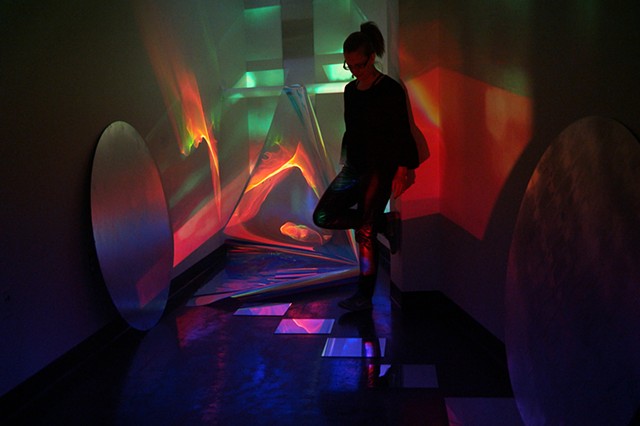 Events and News:
Image above:
"The Color of Life"
My immersive video/audio installation at Vignette Art Fair 2018. See and listen to music composition here.


So very humbled and honored to have been part of ArrayDallas SOLUNAfestival. Array is an Dallas Symphony Orchestra SOLUNAfestival event and the newest multi-sensory music and art exhibit coming to Dallas. Immerse yourself and treat your senses to a different kind of interactive art experience featuring six new commissions by Dallas Artists.
Read more about it here.
And a Facebook link here.


Join us for our second Vignette Art Fair. For the second year Vignette Art Fair will present the work of creative female, and female identifying, minds, bridging the gap between local and international art scenes during a time when the international art market descends on the city. Join us for a selection curated from more than 250 submissions and featuring 2d, 3d, new media, performances, installations, and more. Open to the public.
Public opening reception: Friday, April 13, 7:00 PM 10:00 PM
Brunch and Panel Discussions: Saturday, April 14th, 11:00 AM – 1:30 PM
A VIP preview for sponsors and members is by invitation only. Become a member today to join us for this special evening.
"Beyond 10", my short film made for Bart Weiss, producer of KERA's Frame of Mind, screened as part of Dallas International Film Festival,
Deep in the Heart of Texas Film Festival and as part of the Experiments in Cinema Festival.
So thrilled to be a part of this amazing show at CIRCUIT 12 CONTEMPORARY
Artist Talk, Tuesday, October 3, 2017 | 6-7:30pm
GLIMPSE THROUGH LIQUID| | GRAHAM CALDWELL | SHED SOME LIGHT | CARMEN MENZA | 5 AUGUST 2017 – 7 OCTOBER 2017
Look for my light sculpture works in the Project Room.
Honored to have been selected for the EXHIBIT Biennial: Origins in Geometry, curated by the juror, Magdalena Mujica de Arria. Magdalena founded GraphicArt Gallery in Carracas, Venezuela.
Show runs July 28 - October 22
The Museum of Geometric and MADI Art, 3109 Carlisle Street
Dallas, TX 75204


Looking forward to another great event at this year's Art for Advocacy benefiting the Dallas Children's Advocacy Center. Save the date, Saturday, November 4, 2017


Honored to have been selected for the opening exhibition of Open Space. Please come and see my light works as well as many other artists works.
Pleased to Meet You Opening Reception
May 20, 2017 5-8pm
203 W Comstock St., Dallas, Tx 75208
Show runs through June 24th. Saturdays 12-4pm or by appointment rest of week. Contact OpenSpace


Thrilled to have our work chosen by CODA Magazine for publication in their "best of" interactive public art category! Scroll down to see "The Theory of Chance" or see it here.


Excited to show my newest paintings and light based work at Cerulean Gallery in Amarillo, TX. Opening reception August 5, 2016. Cerulean Gallery


So honored to have shared our installation "The Theory of Chance", selected by curator Aja Martin at Aurora Dallas. Thank you all for your support!
Read all the details here:afterimagecollective
and view a movie on the making of here:
The Theory Of Chance


Created custom neon work at the stunning jitrois store in Manhattan. 959 Madison Ave, New York, NY 10021.


Our short film Dream Big has now premiered at Aurora Dallas - 2013, screened as an "Official Selection" of the Dallas VideoFest - 2014 and screened as a selection at Dallas VideoFest in Houston - 2015.


My music video Happy Family won a national competition. So excited! Thank you for your votes!