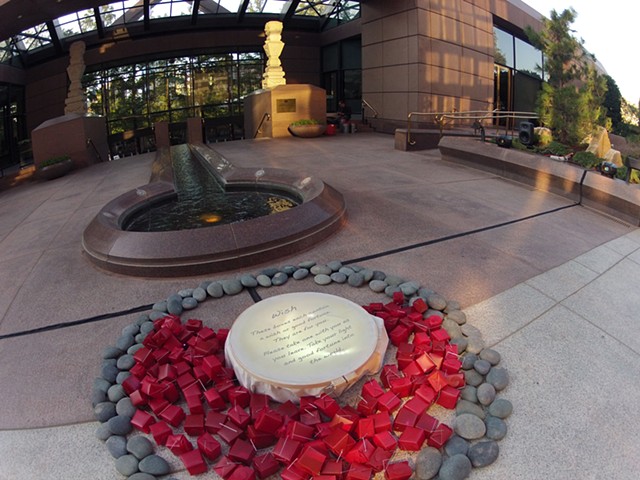 WishDallas Aurora 2011
original music score, stones, translucent chinese take out boxes, LED's, good fortunes
8' diameter
2011
Carmen Menza and Mark Menza
"Wish" - Sound and Light installation
Trammell Crow Center - Upper Pavilion
Dallas Aurora Lights Festival
October 28, 2011
Artist Carmen Menza and composer Mark Menza create an installation of light and sound that share good fortunes and wishes upon those who visit it this Friday night, during the Aurora Lights Festival.
As visitors ascend to the upper level of the Trammell Crow Center
pavilion they are be greeted by a dynamic light and sound installation which include an original music composition with spoken word woven throughout.
Visitors are invited to take a small piece of the installation with them as they leave. Small red boxes each containing a good wish or fortune and a light are meant to be taken by the visitors one at a time into the world. As the collection of lights grows smaller the reach of the piece grows greater. The 300+ wish installation will disseminate into our community and continue to exist in good will.
Musical score can be heard here.